Freedom Wire
New York Post Throws An Uppercut At Ilhan Omar's Disrespectful Remarks About 9/11
Ilhan Omar has been taking some serious heat over some recent comments she made about 9/11 and the terrorists who did the attacks.
And she should. The things that she says are extremely offensive and disrespectful to not just the families of the victims, but all Americans.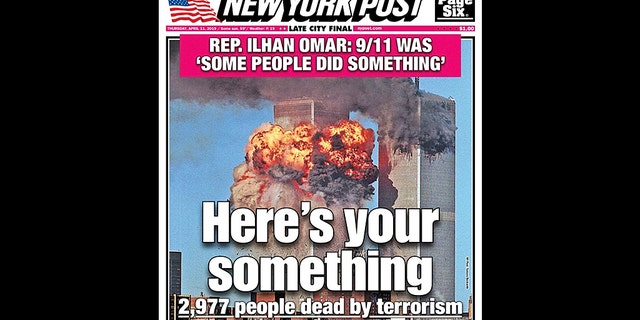 Fox News reports,
The bottom of the cover read in small captioning: "Omar outraged the families of 9/11 victims by referring dismissively to the terrorist attacks while speaking to a Muslim lobbying group."
The Post was referring to Omar's recent comments at the Council of American-Islamic Relations [CAIR] fundraiser last month when she called upon other Muslim-Americans to "make people uncomfortable" with their activism. However, another part of the speech surfaced on social media this week in which Omar described the terror attacks perpetrated by Al Qaeda.
Omar had delivered a keynote speech at a CAIR event which is recognized as a terrorist organization.
The Daily Caller reported,
Minnesota Democratic Rep. Ilhan Omar described the September 11, 2001, terror attacks on the United States in a nonspecific way during a recent speech to the Council on American-Islamic Relations (CAIR).
Omar delivered the keynote speech at a fundraiser for CAIR in late March and urged Muslim Americans to "raise hell" and "make people uncomfortable." In one part of her speech that surfaced on Twitter this week, Omar described the 9/11 attacks in a peculiar way.
"CAIR was founded after 9/11 because they recognized that some people did something, and that all of us were starting to lose access to our civil liberties," Omar said.
Earlier this week Omar began getting criticized over what she said.
Ilhan Omar mentions 9/11 and does not consider it a terrorist attack on the USA by terrorists, instead she refers to it as "Some people did something", then she goes on to justify the establishment of a terrorist organization (CAIR) on US soil. pic.twitter.com/ixP3BJfqxS

— Imam Mohamad Tawhidi (@Imamofpeace) April 9, 2019
This was posted by a Muslim imam. They'll call her out, but Democrats won't?
How long will it take before realizing that this anti-Semitic, disrespectful, terrorist-sympathizing Muslim woman is a detriment to our country and remove her from her government position?